Professional Hardwood Floor Refinishing and Sanding Services in St. Louis
Thinking about covering up your hardwood floors? Think again…
Our team at Professional Floors of St. Louis Inc. offers professional hardwood floor refinishing and sanding services for homeowners, gymnasiums, and commercial businesses in the St. Louis area. We can help you breathe new life into your floors. Most hardwood floors can be refinished to look new or completely change your home's style. 
In almost every case, hardwood refinishing is cheaper than it would cost to cover up with carpet. We can help you restore your hardwood floors in St. Louis. Our team has a long history of providing professional hardwood refinishing services, hardwood sanding, and hardwood re-coating services for homes, businesses, and gymnasiums. 
If you are looking for a professional hardwood refinishing company in St. Louis, we can help. Contact our experts today to schedule a hardwood refinishing appointment.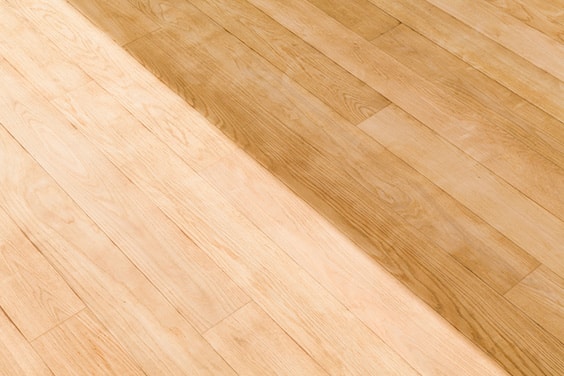 Our Hardwood Refinishing Services
St. Louis's Top Hardwood Refinishing Contractor
Our team at Professional Floors of St. Louis, Inc. strives to provide superior hardwood refinishing services for homeowners, business owners, and gyms across the St. Louis area. We have the expertise to help you make the right choice when it comes to hardwood refinishing. We work with customers every day to provide real solutions to their damaged or aged hardwood floors. Whether you need your hardwood sanded or are looking for a fresh topcoat, our team will help you make the right choice. Trust our hardwood refinishing experts for all of your hardwood flooring needs. 
Get A Hardwood Refinishing Estimate
Restoring Historic Hardwood Floors
St. Louis is full of homes built around the turn of the century, most of these homes have top nailed hardwood that has seen better days. However, this is not the end for those floors. Our team of hardwood refinishing experts can help you sand down and refinish those hardwood floors to maintain their beauty.
Revitalizing these floors is not easy. In some cases, it can mean removing or altering old finishes, repairing damaged spots, and completely refinishing areas where there may be water or pet damage. Hardwood floor refinishing can help you restore your home and transform your floors to suit your style.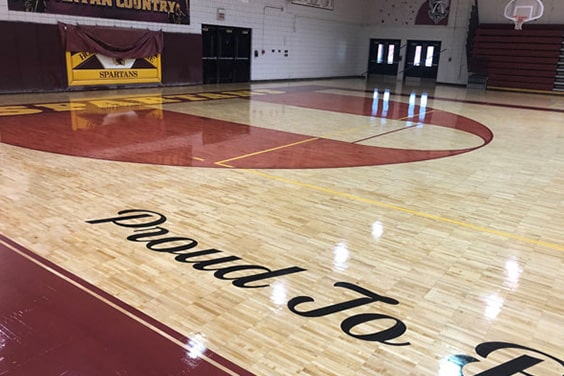 Gymnasium Floor Refinishing St. Louis
Gymnasiums take a lot of use and abuse, especially in high schools and colleges. Our team at Professional Floors of St. Louis has helped school administrators refinish and renew their gymnasium floors. This includes schools like Eureka and Parkway West. Often when gymnasiums are refinished it is a lengthy process involving not just the normal refinishing process but also ensuring that the floors are properly painted. Our team can help you get all of this done quickly and cheaper than most other refinishing companies. Get in touch with our experts to get a quote on refinishing your gymnasium floors.
Our Hardwood Refinishing Process
Removing the old clear coats is the first step to any hardwood refinishing project. 
Getting rid of old stains is the first step in transforming your hardwood floors.
Prepare Hardwood For Finish
The floor needs to be cleaned and any repairs need to be made to prepare for new finishes.
Finish the hardwood floors with new stain and clear coat to your specifications.
Hardwood Recoating
Most St. Louis homes have aging hardwood floors installed over 20 years ago. Over time old finishes can turn yellow, which will cause your floors to appear golden or amber-toned. This may not be what your hardwood looked like originally and is affecting the overall aesthetic of your home. If you are content with the color of your floors, recoating with a new finish can be a perfect solution for extending the life of your hardwood without altering the look of your home. We offer professional hardwood recoating and refinishing services that will allow you to restore your hardwood floors to the day they were first installed. We have experience helping homeowners choose the right finish for their floors. This includes choosing water-based vs. polyurethane finishes and choosing a style like matte, satin, semi-gloss, or high gloss finishes.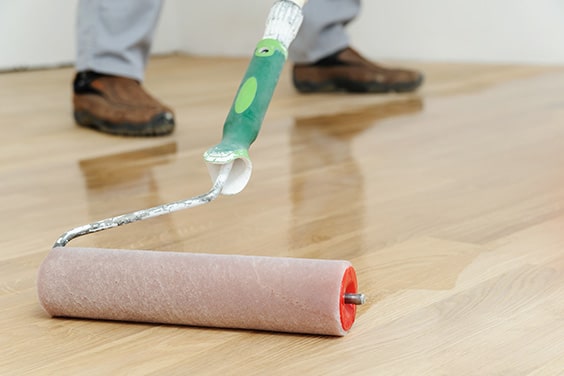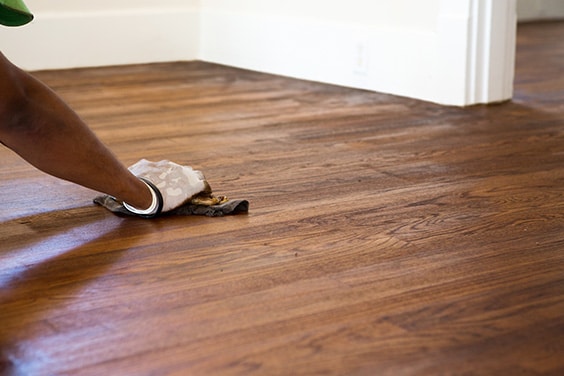 Custom Hardwood Staining and Refinishing
If you are looking to update the look and feel of your home without replacing your hardwood floors, we can help. Our team at Professional floors of St. Louis inc. offers professional hardwood refinishing and staining services. We use 100% safe stains and finishes and can help you choose the perfect color for your refinished hardwood floors. Click the button below to look at our available stain selection for hardwood flooring. 
Hardwood Refinishing Gallery
Contact Us For a Hardwood Refinishing Appointment in St. Louis
Our team at Professional Floors of St. Louis Inc. offers professional hardwood refinishing, recoating, and sanding services to homeowners across the Greater St. Louis area. Our refinishing services are quick and will have your home, business, or gym back to normal in no time. Schedule a hardwood refinishing appointment by calling 314-843-4348 or fill out our online contact form to have our hardwood refinishing contractors reach out to you. 
hardwood floor sanding and refinishing in Town And Country, MO
Barb Bybee - Town And Country, MO 63017
installed parquet flooring in Wildwood, MO
Angie's List Reviewer - Wildwood, MO 63038
Hardwood Floors Refinishing in Chesterfield, MO
Angie's List Reviewer - Chesterfield, MO 63017
hardwood floor sanding and refinishing in Town And Country, MO
Barb Bybee - Town And Country, MO 63017
installed parquet flooring in Wildwood, MO
Angie's List Reviewer - Wildwood, MO 63038