Hardwood Flooring Installation St. Louis
Professional Floors of St. Louis has been helping homeowners and business owners in the St. Louis metro area install hardwood flooring in their living and working spaces for years. Our experienced hardwood flooring team offers both installation and refinishing services that will leave you with the incredible hardwood shine you want for your home. Damage floors? We can help you with hardwood flooring repairs as well.
Get in touch with our experts to start a conversation about installing hardwood in your space today. You can get a free estimate by calling us at 314-843-4348 or by filling out our online contact form.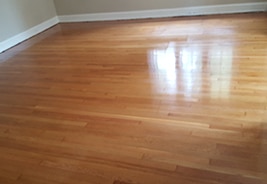 Why Install Hardwood Over Carpet?
Aside from carpet, hardwood floors are one of the most installed flooring options in homes. Why is this? – Because of their durability and elegance, hardwood floors are among the most chosen options for dining rooms, offices, and other spaces in both homes and businesses. Having our team install hardwood flooring in your home or business can help you complete your style while adding value to your home. In comparison to carpet, hardwood floors are almost as easy to care for.
Even cleaning hardwood floors is made a breeze by these modern wood finish and varnish aids because the surface of the floor becomes very even and smooth, which makes it hard for the dust to settle. Any dirt or dust is easily lifted off the surface without much effort.
To gain a sense of warm and homey permanence, wood flooring has few rivals.
Hardwood Flooring Maintenance
So, you may be thinking that all of the stories you have heard about caring for hardwood are true. It gets scratches, it can discolor if exposed to regular sunlight, and it's expensive to have your hardwood refinished. Well, our team knows this is not true, at least anymore.
Modern hardwood finishes have come a long way from the simple stains and finishes of the past. New products have improved in durability and you have a wealth of choices for styles, colors, and shine. Our team can help you choose the perfect color and finish for your hardwood floors. Whether we are helping you install new hardwood floors or refinishing your existing floors.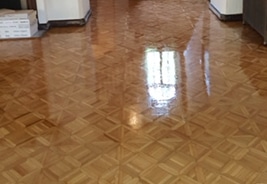 Types Of Hardwood Flooring
When it comes to installing hardwood in your home, there are several types to choose from all of which also have a variety of styles. These include prefinished hardwood, job finished hardwood, and engineered wood flooring. Our team at Professional Floors of St. Louis can help you install any of these hardwoods in your home.
Prefinished Hardwood Flooring
Prefinished hardwood flooring eliminates the time-consuming chore of the sanding and refinishing and gives you the added benefit of a perfect finish all done for you at the factory. Most of the wood flooring we carry has variety of stain colors to choose from and are coated with the durable 7- 10 coats of the " Alumide or Ceramic" finish, which is far more durable for wear than anything that can be purchased in a hardware store or home center. Using prefinished Hardwood flooring allows you to move right back in as soon as a room is installed No Waiting for the finish to dry!
Job Finished Hardwood Flooring
Installing unfinished Hardwood flooring requires a series of steps including sanding, staining and sealing the floor. Applying the finish to the floors after the sanding would requires several days waiting for finish coats to dry before being able to move back in.
Unfinished hardwood flooring is delivered raw then sanded, stained and finished on site. It is available in more widths and wood species than prefinished flooring and can be matched to existing wood floors.
A custom sanded hardwood floor is perfectly flat looking, with a tabletop appearance that cannot be achieved with a prefinished hardwood floor. If the subfloor is uneven, then a pre-finished floor will be uneven. Since unfinished flooring is sanded flat on site, it is more forgiving of slight irregularities in the subfloor.
Laminate is melamine-infused paper on top, wood chip composite on bottom. Solid hardwood, by definition, is real wood. And engineered wood, too, is real wood. It is a sandwich of 1/16″ to 1/8″ inch of finish wood on top and non-finish plywood underneath. The top finish layer is pre-finished, which means that it is already sanded and sealed. So as soon as the floor has been laid, you can walk on it.
Unlike solid wood, which must be nailed to a wood sub-floor, engineered wood can be installed in a different number of ways. Depending on the type you buy, it can be either:
A nail-down floor – This is for the 3/8″ thick floor–its thinness requires nailing to enhance stability;

A glue-down floor – The 1/2″ thick floor can be nailed down; or

A floating floor – The 5/8″ planks are thick enough to act as a floating floor.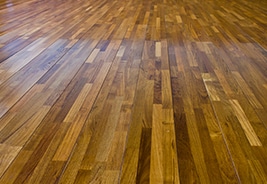 When To Install Engineered Wood Floors Over Solid Hardwood Floors
It is very difficult to compare a solid wood floor to engineered wood floors, as there is a wide range of engineered wood floor qualities. There are several limitations on solid hardwood that give it a more limited scope of use:
Solid wood should not be installed directly over concrete

Should not be installed below grade (basements)

It should not be used with radiant floor heating
Solid hardwood is also typically limited in plank width and is more prone to gapping and cupping with increased plank size.
Regardless of your material, hardwood flooring is known to markedly improve the resale value of any home when it is properly installed and finished.
At Professional Floors of St. Louis, we can install either solid or engineered floors. We can help you with a wide choice of finishes and styles. Our trained technicians can help you choose the best floor for your use.
How To Care For Your Wood Flooring
Proper use of vacuuming, sweeping, and damp mopping is usually all that is required to maintain the cleanliness and appearance of a wood floor. Oil soaps should not be used to clean the floors. The best suggestion is to use the manufacturers recommended cleaning products. Like tile floors, excessive grit and foot traffic will affect appearance. Unlike carpet or rugs, a properly finished wood floor, like tile, does not accumulate hidden soil or odorous compounds.
Hardwood Installation Gallery
Contact Our Experts For Hardwood Floor Installation
If you are considering installing hardwood in your home or business contact our experts. We can provide you with a free estimate on installation and can help you choose the perfect hardwood for your spaces. You can reach us by filling out our online contact form or by calling 314-843-4348 to schedule an appointment.
Steve was great. He was incredibly helpful in refinishing my wood floors. I'm very pleased with the quality of the result.
Barb B. - Town and Country, MO 63366
Thank you for the great job refinishing our hardwood floors. The two gentlemen performing the work did an outstanding job and made sure the finished product met our expectations.
Bud - St. Louis, MO 63112
Enclosed is the balance for our hardwood floors. They look beautiful. The guys were great and it was a pleasure having them here.
Floyd M. - St. Louis, MO 63118
Steve was great. He was incredibly helpful in refinishing my wood floors. I'm very pleased with the quality of the result.
Barb B. - Town and Country, MO 63366
Enclosed is the balance for our hardwood floors. They look beautiful. The guys were great and it was a pleasure having them here.
Floyd M. - St. Louis, MO 63118