Specialty Wood Flooring Ideas
Your choice of hardwood flooring is a decision that can dramatically impact the very essence of your homes character. That is why we at Professional Floors of St. Louis Inc. offer a wide variety of flooring choices. On this page you can find a small sample of flooring options. Please view our full list of wood floor manufacturers by selecting the link in the left sidebar. Below a few of our specialty manufacturers.
HomerWood Amish Hand-Scraped™ Flooring
Looking for a truly authentic distressed look to add heritage and history to your home? Then try our Hand-Scraped™ Collection!
Each plank is hand-sculpted, one at a time and bears the name of the proud Amish craftsman who created it, bringing you a unique custom floor of timeless originality and distinction.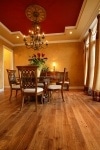 Healthy Forest, Healthy Homes
TimberCreek® flooring products are environmentally safe throughout their entire life cycle – from production through disposal.
Wood is a natural, renewable resource, and we take seriously our role in keeping this resource healthy and flourishing. That is why TimberCreek® flooring products are harvested only from professionally managed, sustainable forests.
And you do not have to worry about harmful finishing fumes in your home. Our products do not release any unsafe solvents or heavy metals into the air – making our floors the ideal choice for people with allergies or other environmental sensitivities.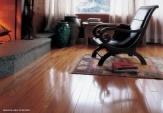 Custom Borders from Kentucky Wood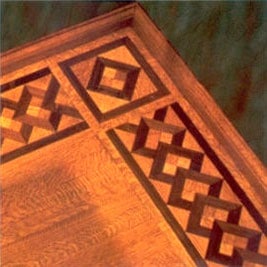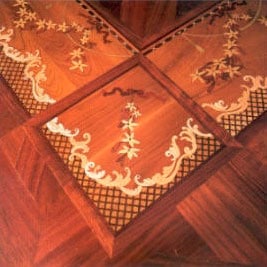 Custom Borders can be used to define a specific area or convert an otherwise commodity wood floor into an upscale, top-of-the-line specialty. They are available in the patterns below or a custom pattern of your own design. They can be handcrafted in the species combinations shown below or one of your own specification. These 5/16″ or 3/4″ thick, pre-assembled modules glue-down to any level, clean, dry and sound sub-floor. They are job-site finished in the color and finish of your choice. Just determine the lineal footage necessary plus the appropriate number of corner blocks (Byzantine and Versailles excluded). Our master craftsmen will do the rest.
Hardwood Floor Specialty Design Elements
Hardwood floors have come a long way in the past few decades. We have already discussed how new maintenance can keep your hardwood floor looking newer longer. But the years have made hardwood floor customization much easier as well as affordable. Create a unique one of a kind look for your St. Louis home by purchasing hardwood floor design upgrades like borders, hand distressing, medallions and more.
Exotic Hardwood Floors
Coming in a variety of colors and durability there are woods of every type available to customers today. If you are interested in a pink or red hue hardwood floor than you may want to consider Bubinga for your wood. Perhaps you are more interested in something with a purple tinge to it. In that case, you will want to examine Purpleheart from Mexico, which ages to a deep purple. If you are going for a rustic look, try Australian Cypress which is tougher and knottier than domestic pine. Bamboo is available which will really give your home an eco-friendly finish. There are literally a limitless (not really, but almost) supply of exotic hardwood floors options to choose from when you deal with Professional Floors of St. Louis.
Hand Distressed Hardwood Floors
If you are interested in a truly unique look for your St. Louis home then consider a hand distressed hardwood floor. This provides homeowners with an antiqued appearance that many people find appealing. While time and labor intensive, this customization technique will bring you a truly unique look.
Hardwood Floor Borders
Borders can be used to create a framing effect for a particular room or area. Typically this is performed with contrasting wood to make the effect more pronounced. Borders can incorporate not just different types, styles, and colors of wood but they can also use mixed media for further contrasting.
Mixed Media Hardwood Floors
For a unique, one of a kind look to your hardwood floor consider contrasting the wood with any number of materials including stone, tile, marble, leather, slate, or metal.
Hardwood Floor Medallions
Medallions typically incorporate multiple species of wood to create patterned contrasts. For more customization and contrasting St. Louis customers can request a mixed media medallion for their hardwood floor. Professional Floors of St. Louis will work with homeowners to ensure they achieve the proper affect for their medallion pattern.
Painted Hardwood Floors
Normally you would not think to paint your hardwood floor, but a little bit of paint can transform an ordinarily bland hardwood floor into something unique and artistic. Once you start considering paint as a customization option for you hardwood floor you are truly only limited to what your imagination can come up with.
Hardwood Floor Stains
What about if you already have a hardwood floor? Maybe you cannot afford to or you are just not prepared for the hassle, but relaying the floor is not an option. What then? What customization can you do under these circumstances? The answer is hardwood floor stains. With a new stain you can easily and affordably give you hardwood floor an entirely new look.
Consider all of the above mentioned hardwood floor customization options and then contact Professional Floors of St. Louis. We are extremely capable at customization jobs and would be very interested in helping you to design the perfect hardwood floor for your St. Louis home.
hardwood floor sanding and refinishing in Town And Country, MO
Barb Bybee - Town And Country, MO 63017
installed parquet flooring in Wildwood, MO
Angie's List Reviewer - Wildwood, MO 63038
Hardwood Floors Refinishing in Chesterfield, MO
Angie's List Reviewer - Chesterfield, MO 63017
hardwood floor sanding and refinishing in Town And Country, MO
Barb Bybee - Town And Country, MO 63017
installed parquet flooring in Wildwood, MO
Angie's List Reviewer - Wildwood, MO 63038