When it comes to choosing a finish for your hardwood floors, there are two main choices for style. Water-based and Polyurethane finishes. These two types of fishes have different applications and reasons for choosing them. Depending on the color, durability, and cost you may choose one over the other.
Polyurethane Based Finishes
When looking at polyurethane based finishes there are some factors you must consider. If you are going for a natural color on your wood, then choosing a polyurethane can help pull some of the amber tones and natural coloration better than a water-based finish. In addition to this because polyurethane is an oil-based finish it stands up to water better than water-based finishes. This makes polyurethane based finishes great for high traffic areas around doors and kitchens.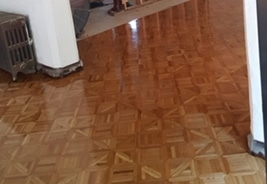 Water-Based Floor Finishes
Water based floor finishes are often more expensive than polyurethane finishes from the outset. However, there are some scenarios that call for water-based finishes. If you are trying to achieve a white, or grey color to your hardwood, then choosing a water-based floor finish is your best choice. Water-based finishes have no coloration and do not affect the final color of the flooring, where polyurethane has a natural amber tone that will get more amber over the course of its lifespan.
If you need help choosing the correct finish for your project, our team of experts can help you make the right choice. Contact us today to start talking about refinishing your hardwood flooring in St. Louis.